Waterproof Luxury Vinyl Flooring
From first glance, it is difficult to tell that not all luxury vinyl floors are waterproof. Many luxury vinyl options come in water resistant options, but not all are made to be entirely waterproof. We can help you when it comes down to buying a waterproof floor, whether you have pets in your home or just need a floor that is easy to care for. Our experts at Glines Carpet One Floor & Home in Yuba City, CA will ask you the right questions to determine the type of flooring you need in your home, and to guide you in the right direction with waterproof flooring.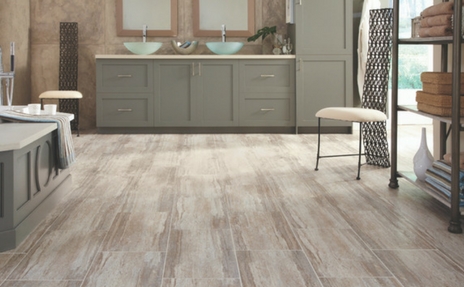 What makes Luxury Vinyl Waterproof?
It is a tough lesson to learn when you find out your waterproof flooring is not actually waterproof at all. Our flooring professionals will show you the difference between a waterproof floor and a water resistant floor, which can make an impact on your purchase in a positive way. A water resistant luxury vinyl floor means the floors can repel moisture from the surface, but eventually the core will soak up any moisture and trap it. Water resistant floors are a good option for spaces in your home that you clean often so they are not forgotten.
A waterproof floor forms a watertight barrier between moisture and your subfloor. A waterproof floor resists moistures from the surface all the way through to the core. Manufacturers use materials such as limestone dust and PVC composites in the flooring that do not absorb moisture to make luxury vinyl's core. This waterproof core means your floors will not expand or warp due to moisture, and your subfloors are protected from potential damage. You should always keep in mind that just because the flooring itself is waterproof, that does not mean your subfloor is.
Where can you Install Waterproof Flooring
You can install waterproof flooring in virtually any room of your home. That means you can install luxury vinyl in rooms like your basement, mudroom, kitchen and even bathroom. Waterproof luxury vinyl is made to look and feel just like real hardwood or stone, so you do not have to sacrifice function for style.